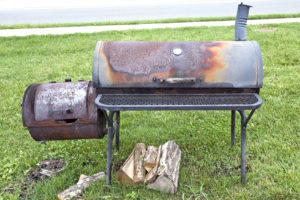 Did you know that 45% of Americans planned on buying a new smoker or grill last year?
There's a reason! Smokers have become more popular, especially during the summertime for all those outdoor BBQs.
The smoker helps create that delicious BBQ taste. But if you've noticed your smoker hasn't been working the same, it might be time to replace some parts.
Read on to learn more about smoker maintenance tips.
Remember to consult your manual when removing or replacing any parts on your smoker. If you cannot find your manual, be sure to contact the manufacturer or check their website.
1. Sealing Your Smoker's Doors
Using your smoker frequently can cause wear and tear on its doors.
The heat in your smoker is key, so make sure heat doesn't leak out of the doors. If you have a cheap smoker, the metal is likely thinner and not retaining heat as well as it could be.
Fix the doors on your smoker with a silicone seal that can withstand high temperatures. It's also a good idea to consider buying a gasket seal (for the bottom of the doors) for extra protection.
2. Maintain the Grates
The grates on your smoker go through a lot, so be sure to keep them extra clean. If they're too far gone and a grill isn't cutting it, consider replacing them.
While it's important to have your grates seasoned for cooking, too much grease, oil, and other soot can ruin them.
Cleaning your smoker regularly is important to helping prevent grease and oil buildup, which causes your smoker to run less efficiently. Buildup can also change the taste of your food.
3. Replace the Smoker's Water Pan
The water pan for your smoker ensures that your meat doesn't dry out during slow-cooking.
It's important to maintain a proper level of water in the pan during the smoking process. Make sure to clean this pan afterwards.
After awhile, you might find that it's hard to scrub the water pan clean due to the accumulation of grease and fat.
This is an easy part to replace, and will help keep your smoker looking fresh and new.
Bonus: You can even use disposable aluminum pans for your water, helping maintain a fresh look each time you use your smoker. These make your cleanups easier too!
4. Wet Bulb Socks
Wet bulb socks are crucial to understanding the temperature and humidity in your smoker.
Replace these with every cook cycle to ensure that you have an accurate temperature reading in your smoker.
Be sure to prep them properly, and place them near the exhaust damper for best results.
5. Metal Radiators and Lava Rocks
Whether your smoker uses metal radiator bars or lava rocks, both require maintenance.
The bars should be cleaned regularly to help prevent soot from getting on your food. If they are made of stainless steel, they will last longer than an enamel surface. These must be replaced frequently.
Similarly, lava rocks absorb grease. You should replace the lava rocks to prevent carbon from affecting the smoked flavor of your food.
Smoker Maintenance Is Key to Having a Long-term Smoker
A smoker is a great investment that will last a long time if you take care of it!
Cleaning it regularly to help prevent buildups of grease, soot, and rust will help prolong your smoker. As you have learned, sometimes parts need to be replaced.
Remember: Smoker maintenance makes for a better BBQ!
How do you practice smoker maintenance? Let us know in the comments box below!